disguise is now shipping the new vx 4 server which has been engineered to play back video at higher quality and resolution than ever before. Previewed at Integrated Systems Europe 2019, it won the Installation Best of Show 2019 Award.
The vx 4 is optimised for playing up to four times uncompressed 4K60 using its high-performance NVME RAID drive array; as well as the capability of playing lossless 10-bit video. Additionally, it can capture either 16 3G-SDI sources, or four 4K sources (2160p60).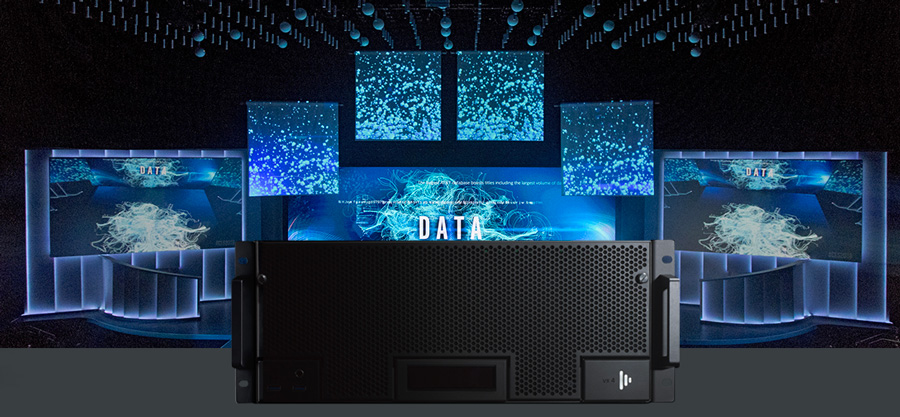 With the introduction of r15.2 and the vx 4, disguise now supports HDR content, and provides a means of applying colour profiles. Consisting of a colour space and a gamma curve, users can now set a colour profile to their content, or capture images and disguise does the real-time conversion.
"High dynamic range and 10-bit pipelines offer more clarity, more image detail and more flexibility on what can be brought out of the image after shooting. Media servers are now part of the conversation about colour space and can perform an essential role in HDR workflows.
At the top end of the spectrum this involves being able to support 10-bit, uncompressed image sequences, live HDR cameras and performing colour space conversion on the fly" says Sarah Cox, Director of Community at disguise.
The vx 4 also offers users a choice of content quality using industry recognised codecs, from delivering high quantities of compressed content to the higher visual fidelity of uncompressed image sequences (TGA, TIFF and DPX).
The new flagship pro range server has even more network bandwidth with dual 25GbE and dual 10GbE ports; enabling faster media file transfer and higher resolution networked live video capture.
Like other pro range servers, the vx 4 is ultra rugged with a cross-braced stiff chassis and isolated core components. The new chassis design also features a new hi-res OLED front panel for more detailed system information.
"The vx 4 is our most powerful server to date, and has been engineered from the ground up to deliver uncompressed playback and even bigger video than before. Building on the legacy of the pro range, it's the most robust hardware we've built.
We've put it through extensive shock and vibration testing to ensure it meets the demands of Touring and Live Events." says Thyge Haarberg who has led the engineering of the vx 4, and other hardware products at disguise.
The vx 4 also features disguise's unique VFC technology, which allows users to output DisplayPort, DVI, SDI or HDMI without changing the system, as well as mix signal formats and resolution types in the same project, with guaranteed frame synchronisation and near-zero latency. The vx 4 ships standard with the latest in disguise's VFC technology, the HDMI 2.0 VFC cards.
A number of disguise partners have invested early in the vx 4 technology, and these early adopters are advocates for the next generation of the disguise solution. The partners include:
Ark Ventures Inc
Basictech
Boum Creative
Creative Technology, Las Vegas
Groupe Solution Inc
Hexagon
Lang UK
Live Legends
MB Productions
Meptik
Pixway GBMH
Publitec
SDI Project
Show Imaging
Trippel M
Worldstage
80six
---
More information on disguise series.
Posted on 8 April 2019
Crédits -
Text & photos: disguise technologies.