NEXO's new additions to its range of NXAMP TDcontrollers are unveiled. The NXAMP4x2 MK2 and NXAMP4x1 MK2 amplifier models are the result of close collaboration between R&D engineers from NEXO and its parent company Yamaha.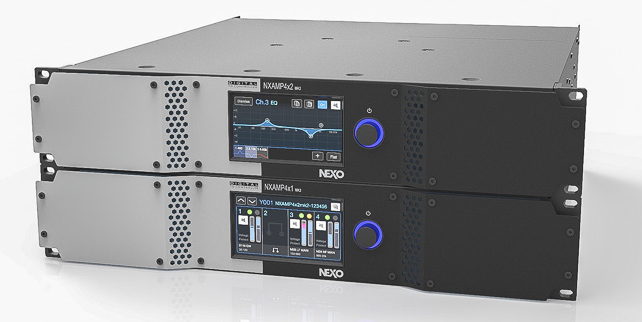 Since its launch ten years ago, the NXAMP range of controller/amplifiers has become one of NEXO's most successful and well-known products, sitting at the heart of most NEXO touring systems and installations. The new NXAMP4x1 MK2 and NXAMP4x2 MK2 models present NEXO's expertise in DSP control in lighter, sleeker 2U packages with touchscreen control.
Available in 4x 1000 Watts and 4x 2000 Watts, and weighing in at just 16Kg and 16.6Kg respectively, these ultra-low distortion Class D amplifiers combine 32-bit/96KHz converters and 64-bit signal processing to deliver significant advances in sound quality over the already highly regarded MK1 NXAMPs.
A native dual Ethernet port offers seamless integration with NEXO's proprietary NeMo system management software. Amplifiers can be remote-controlled and daisy-chained via a Remote Control card fitted as standard, with optional Dante, EtherSound and AES/EBU network cards also available.
Four high-end analogue inputs use cascaded converters for low output noise, and four digital inputs are available through the
rear panel expansion card slot offering optional AES/EBU, EtherSound™, Dante™ or AES67 inputs, all with automatic analogue fall-back. In addition to the expansion card slot, other rear panel connectivity includes RS232 serial and GPIO ports along with Speakon outputs for each of the four channels.
Ideal for use in touring and fixed installations, the amplifiers feature a universal power supply (100 – 240 Volts) using PFC (Power Factor Correction) technology for maximum efficiency and smooth current draw.
The NXAMP4x2 MK2 is a new design in the NXAMP range, ideal for NEXO's GEO Series of compact line array systems, and for the ever-popular PS Series cabinets. The NXAMP4x1 MK2 replaces the NXAMP4x1 model, which NEXO will continue to support as a legacy product.
A large LCD colour touch-screen on the front panel enables faster and easier navigation, giving direct access to all essential parameters including:
Array EQ
Mute and Meters
EQ Detail
User EQ
Inputs
Load Monitoring
Log
Scene
Setup
System Headroom
Volume, Gain and Delays
---
More information on Nexo Website
Posted on 8 November 2017