The busy Vooruit arts complex in the centre of Ghent in Belgium has transformed a historic venue, built in years before World War I, into a bustling arts centre with an impressive variety of cultural events.
It has collection of different venues, all equipped with NEXO sound systems, but the jewel in the crown is the Concertzaal, where production company VDB-PA has just completed a permanent installation of NEXO's modular STM Series line array.
Design and specification of the new front-of-house system for the 1100-capacity Concertzaal was managed by Thomas Coene and Jan Van den Brande at VDB-PA, and marked a step-change in the 15 year relationship between VDB and de Vooruit.
"They have been dry-hiring systems for many years," says Jan Van den Brande, "they use their own team of technicians and came to us for the main PA, consoles and monitors, depending on the event. When Vooruit decided to install a permanent system, we were able to draw on our huge experience in this venue to guide them to NEXO STM, which they chose over several other high-profile loudspeaker brands."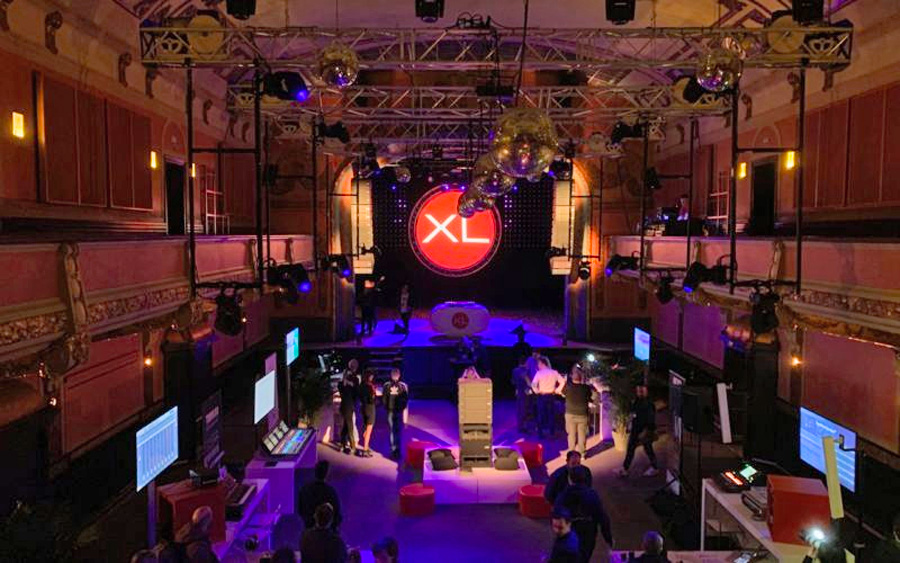 Thomas Coene, who started his career as a student at VDB-PA, was put in charge of the design, noting Vooruit's priorities for its 100+year-old architectural interior when it came to installing the line array.
"The size and weight of the small STM cabinets was an important factor," says Thomas Coene. "There is a wraparound balcony around the venue so we had to respect audience sightlines, and also the flying points can only carry 500 kilos per motor. We need to choose compact lightweight loudspeaker cabinets."
Doing the job perfectly
Coene designed the arrays with 12x STM M28 cabinets on each side, the top three boxes directed at the balcony audience, and then, with a small gap to avoid reflections from the balcony itself, the lower nine cabinets are angled at the floor.
"We did think of using some of NEXO's small ID Series cabinets on the balcony, but the carefully-angled M28 cabinets do the job perfectly, and the top three boxes can be switched off if there is no one in the balcony."
12x STM S118 subs are installed under the stage, equally spaced and running in omni mode. The system runs over a Dante network, powered by NEXO NXAMP4x4 amplifiers. "I can definitely hear a quality difference in the networked system," says Coene.
"Also we have the flexibility to place the console anywhere, on the stage or on the balcony, and when bands come in with their own console, it is very easy to patch it into the system."
Easy operation is key to the Vooruit installation. "We've set it up so that it is really practical to use. Whatever kind of event – dance party, world music, alt-rock – comes in, it takes just 10 minutes to set it up.
I like to hand over the system as flat as possible so it needs minimal adjustment for the room, and then I leave it up to the engineer.
"The STM M28 system is incredibly powerful, with enormous headroom. I like the brightness of the sound, and that the dispersion is truly 90 degrees, which allows you to make very precise adjustments to remove any unwanted reflections. The scaling and modularity makes it a very easy system to design."
Three other performance venues with Nexo
De Vooruit has three other performance venues in its complex, featuring a wide variety of NEXO systems. The largest of these is the Teaterzhalle, capacity 700, with its proscenium arch stage. Here a long-standing NEXO GEO S8 system has just been expanded to 12 a side, with an upgrade to its amplifiers in the shape of new NXAMP4x2 models, as well as ID24 compact loudspeakers for infill.
In the Balzaal, new NXAMP4x4 amplifiers have been added to power the 5-a-side NEXO GEO S12 and RS18 system, and in the Vooruit's 'club', the Domzaal, there are NEXO PS15 point-source speakers paired with RS15 subs.
One of the most dynamic areas of the complex is the Art Deco café, with its long bar and high ceilings, which has been equipped with a NEXO ID Series system, 12 units of ID24 super-compact point source speakers teamed with 6x IDS S110 subs.
More information on NEXO.
Posted on 7 May 2019
Crédits -
Text & photos: Nexo.