The first white Ghibli LED spot fixtures installed in China came in numbers indeed! Installed at the China National Center for the Performing Arts in Beijing, eighty of the beautiful white units were elegantly into the glamorous interior of the Center's Concert Hall by ACE, Ayrton's distributor for China, as part of a major upgrade of its lighting inventory.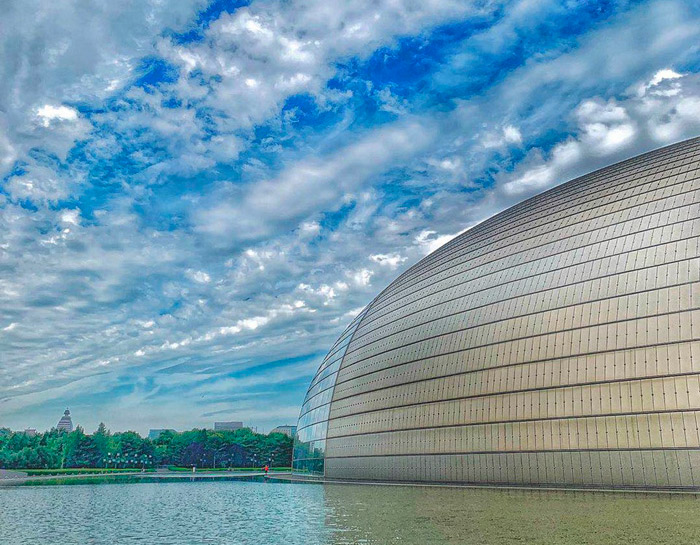 Designed by the late prestigious French architect, Paul Andreu, this Concert Hall includes a 2000-seat Opera House and 900-seat Theatre, within a giant oval shell. It is distinctive in its silver-white interior with an acoustic ceiling that resembles undulating white waves. The 1,900-seat auditorium is arranged in-the-round to enable the large-scale symphonies and Chinese traditional music that are performed there to be heard and viewed from any angle.
Consequently, its new lighting fixtures had to be capable of handling swift lighting changes and multiple staging configurations. ACE recommended Ghibli on the basis of it being a truly versatile fixture that can handle a variety of uses and throw distances – and be customized in appearance to blend it with the stylish surroundings.
"Stage lighting for concert halls always requires an elegant appearance, uniform illumination, comfort and quietness," explains Zhang Wei of ACE. "Classic halogen lights have always been used in the past. However, with the development of LED technology, the luminous efficacy of LED has overtaken most of the halogen lamps and discharge lamps, and Ayrton's product portfolio is a testament to how good LED lighting fixtures have now become.
"When choosing the lighting for the Concert Hall, our overall indicators were size, weight, noise level, colour rendering index and beam angle. We needed to ensure the optical performance of the replacement fixture was better than the superseded product, but also better in appearance, weight and size."
"We carried out a strict comparison and screening of a wide number of products, and it was the quiet, 600W LED Ghibli profile moving head, that we chose above them all. Ghibli far out-stripped the former 1200W discharge fixture we were replacing, and its competition, in optical performance, weight, size, noise level…in fact, in every parameter."
"In long-term use, Ghibli's innovative light source significantly reduces the costs on lamp replacement and power consumption, and enables both the artists and audiences to enjoy the performance in a more comfortable and quieter environment. In addition, the new white cover design merges perfectly with the surroundings of the Concert Hall, ensuring the appearance of the fixture within its surroundings is homogenous and aesthetically pleasing."
More information on the Ayrton Website..
You can also read a complete test of the Ayrton Ghibli on our SoundLightUp Website.
Posted on 10 August 2019
Crédits -
Text & photos: Ayrton.