In July 2015 a thousand musicians perform Learn to Fly in Cesena Italy and Foo Fighters duly performed in the city four months later. But that was just the start… Now an annual event, this year Yamaha digital mixers were tasked with mixing a band of over 1500 members.
Rockin'1000 That's Live has already become so successful that, for the past two years, 'the biggest rock band on earth' has had to relocate to the bigger Stadio Artemio Franchi in Firenze (Florence), around 2.5 hours from Cesena.
Yamaha Commercial Audio Italia is a technical partner of the event and this year staff were faced with the huge task of mixing Front of House and monitors for an 18 song, two-hour performance of rock classics by a band of over 1500 singers, guitarists, bass guitarists, drummers, keyboard and wind players.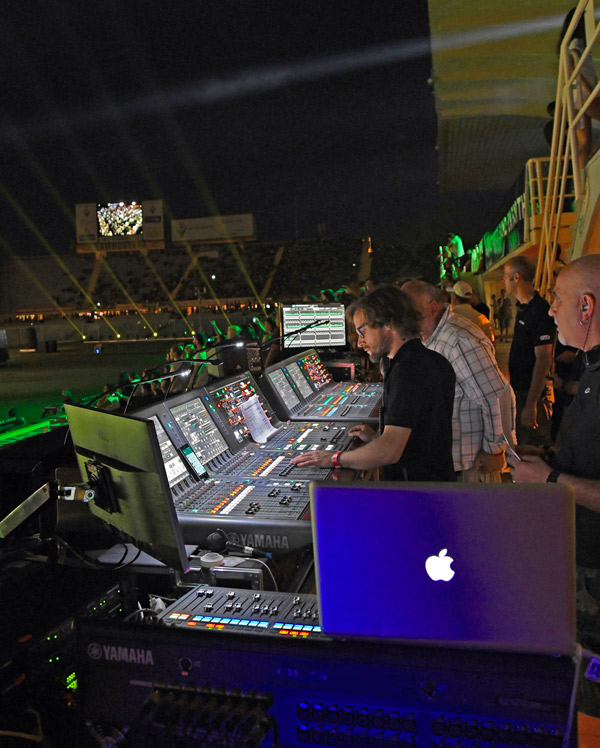 With a channel count of over 300, a RIVAGE PM10 digital mixing system was used for the FoH mix, featuring two CSR-10 control surfaces, four RPio622 and one RPio222 I/O racks on a TWINLANe fibre optic ring.
This system worked side-by-side with a Dante network, which included QL5 and QL1 digital mixers, a Rio1608-D2 I/O rack and two RMio64D Dante/MADI conversion I/O racks to manage monitoring for all the musicians, as well as multitrack recording and communication with the main PA amplifiers.
"The 1500 musicians were grouped by instrument and split in two, so there were two 'drum areas', two 'bass areas', two 'guitar areas' and so on," says Yamaha's Alessandro Arturi.
"As you can imagine, several hundred drum kits and electric guitar amplifiers make a lot of noise by themselves! We supplemented this for the mixes with microphones – either close miking or one microphone per two or three instruments. "The vocalists had one microphone between two people and we also distributed a number of 'jecklin disk' stereo microphones throughout the performance area, suspended about four metres above the musicians."
All microphones were routed to the five RPio units and then to the RIVAGE PM10's core 'brain', the DSP-R10. A pre-mix was done on one of the CSR-10 control surfaces, with the main PA mix done on the other. Monitors were managed by the QL5 console, which received a pre-mix from the RIVAGE PM10 system and then routed different individual mixes to each group of instruments. Within each group, each performer had a wireless headphone to hear the mix.
"With so many microphones and loud instruments, feedback was obviously a potential major problem," says Alessandro. "So it was important that every musician had an in-ear system for monitoring and that all instruments and microphones were very carefully arranged to avoid spill as much as possible."
Sound designer for the event was Francesco Penolazzi, with the FoH mix overseen by Luca Stefani.
The performance was kept in time by conductor Peppe Vessicchio. "Producing a clear, coherent sound from so many musicians is a challenge, but this event is also very enjoyable for both the production teams and all the musicians," says Alessandro.
"Music should be fun and we are very glad that Yamaha systems were again able to make such a positive contribution. We look forward to next year, when maybe there will be even more musicians to mix?"
And more information on the Yamaha Audio website
Posted on 29 September 2018
Crédits -
Text and Photos Yamaha Audio