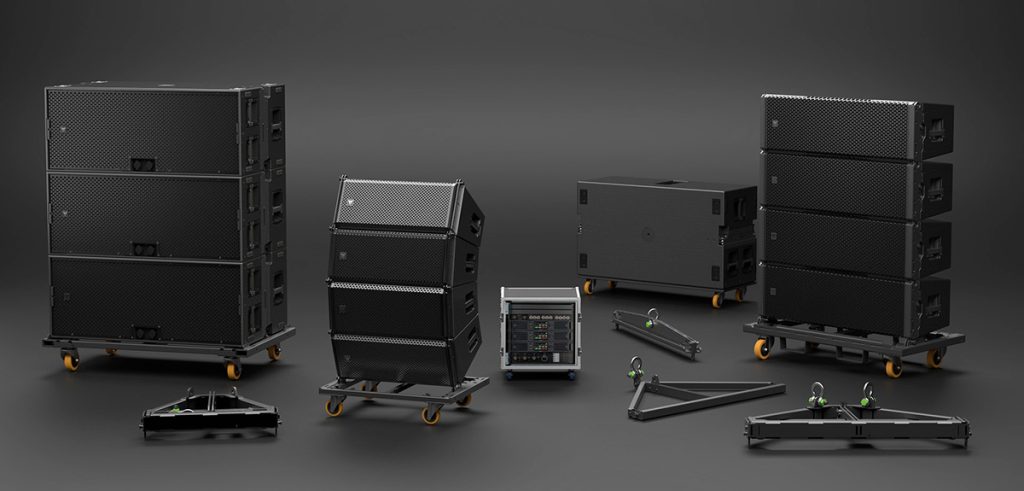 The flagship product line of Italian manufacturer RCF's professional loudspeakers, the TT range (for Touring and Theater) has always enjoyed a prominent presence in Italy, and everywhere else where higher quality and budget need to go hand in hand.
Over the years, the renewal of the large TT line arrays and subwoofers has led the R&D team in Reggio Emilia to consider offering the choice between internally and externally amplified enclosures.
The arrival of the XPS 16K, a superb new touring amplifier as impressive in terms of processing as it is in terms of power, has put an end to the debate. All that was left to do was present the new models of heads and subs, and that's precisely what brought us to Italy for three days. We weren't disappointed!
---
---
The launch event for this new product family was organized in three parts.
– First at the RCF headquarters where, in between two downpours, we listened to the GTX 12 and GTX 10, each with and without the new GTS 29 sub.
– Next, during a dinner at a local winery we had a long listen to the GTX 10 "driven" by a group of musical monsters accompanying a female singer, all mixed to perfection by Lucio Boiardi Serri, Lead Application Engineer for RCF.
– Finally, we finished off at the Olympic Stadium in Rome for a concert by Luciano Ligabue, one of Italy's biggest stars, listening from the golden circle facing the GTX 12.
---
The description of the GTX system highlights the new precision transducers that RCF designs and manufactures in Reggio Emilia, as they do all the speakers in the professional product lines.
We were able to visit the factories and, here as elsewhere, it's women who wind the coils, assemble the moving components and glue in the domes, with a skill and precision that no machine can match, to bring to life what will become loudspeakers.
---
There are too many secrets surrounding the manufacture of the transducers, as well as the construction of the cabinetry and the final assembly, so we won't go into too much detail on this aspect of our article. Just know that there's a strong sense of professionalism at every level, with elaborate Quality Control and, as we say in Italian, "spietatezza" – ruthlessness.
The new GTX and GTS transducers offer around 2 dB more sensitivity than their predecessors, as well as improved power handling, greater excursion, improved resistance to aging, better temperature control and, of course, perfect adaptation to the project for which they were specifically designed.
---
The other strong point – indeed the very reason for the existence – of the GTX is the XPS 16K amplifier, which we've already discussed at length in our articles XPS Series, RCF high-power 4-Channel DSP amplifiers and at Installation innovations from RCF.
RCF chose a power rating of 4 × 4000 W at 2.7 ohms and, with the help of Pascal Audio for the Class D power modules, gave it the ability to sustain a 200 ms burst simultaneously on all four channels at 50 Hz, with a peak coefficient set at 7 dB and a total harmonic distortion of 1%.
---
In addition to its muscles, this amp also has plenty of brains, fast and operating at 96 kHz without any restrictions, offering 40-bit processing and 32-bit routing. It's got FIR filters, all the bass shaping, diaphragm excursion control, dynamic equalization, multi-band compression, atmospheric and distance compensation algorithms – nothing is left out.
Last but not least, RDNet – RCF's monitoring and control platform for amplifiers and powered loudspeakers, now in version 5.0 – offers total control and ease of use, closing the gap with the competition. What's more, it's now even simpler to use this software, as connections are made directly via TCP/IP from a computer with a simple network cable, using the 1 GB router present in all XPS units and bridging the subsequent ones. Last but not least, Shape D3D rounds out the TT+ software package for design and simulation.
---
GTX 12
GTX 12 is a traditional-looking 3-way, 4-channel line-source enclosure that has benefited from a host of improvements in all areas, such as the 4PATH resistive waveguide that loads two ND895s.
This is a new driver with a 3″ ridged titanium diaphragm and a 1.4″ throat, attached to an aluminum-wound Kapton moving element, all bathed in the flux generated by neodymium magnets.
The 109 dB sensitivity is complemented by its ability to reach down as low as 700 Hz. Each driver covers 5° vertically, 10° for both, and the fixed horizontal radiation is 90°. The total impedance of the high frequency channel is 16 ohms.
Positioned as closely as possible to the waveguide in a coplanar configuration, four 6″ midrange drivers with neodymium magnets and 2″ voice coils handle two octaves and present a total impedance of 8 ohms.
The bass is delivered via a pair of 12″ speakers with HyperVented construction, 3.5″ internal/external voice coils, and neodymium magnets that give them all their power (and they've got it, as we'll see during the demos and at the Olympic stadium in Rome).
The 12″ cones receive the same treatment as the 19″ ones in the subs, to lighten them, strengthen them and make them responsive and devoid of any intrinsic resonance.
Driven in groups of three enclosures by each XPS 16K, each individual 12″ with its own amp channel, GTX 12 delivers a usable maximum SPL of 148 dB, and reaches down to 35 Hz at -10 dB.
Finally, we should point out that the rigging operates in both tension and compression, which is useful for very long arrays (a maximum of 24 boxes can be flown), and that the accessories available to facilitate the use of GTX 12 and 10 are numerous and well designed.
---
GTX 10
GTX 10 is the 2-way version, without the four mid-ranges, and with a single driver, appropriately upgraded to 4″, and two 10″ woofers in place of the 12″. Smaller and lighter, at 31.5 kg (less than half the weight of its big brother), this loudspeaker boasts a remarkable 143 dB maximum SPL, and goes down to 42 Hz at -10 dB, which is quite a feat.
The two bass transducers are baby 12″ units scaled down to 10″, while retaining the same responsive pedigree, thanks to their neodymium magnets, inside/outside coils and heat-dissipating design.
Handled with an iron fist (in a velvet glove) by the Bass Motion Control (BMC) algorithm, these perform to the best of their ability, in phase with the waveguide, which also performs this task.
The new NDT995 4″ driver with 1.4″ throat is a masterpiece of power and finesse. Capable of starting at very low frequencies, it rises very easily to the extreme treble, despite the 15° vertical and 110° horizontal diffusion. The larger 4PATH waveguide has also been designed using finite element analysis.
With two active voices, GTX 10 takes full advantage of XPS 16K, so six units can be powered, rather than three, using an A-B switch on the rear of the enclosures and a third connector to tap the output to power them. Three boxes on the four "A" conductors of the multicore, and three others on the "B" conductors.
---
GTS 29
A pleasant surprise of the day, this passive, dual 19″ subwoofer complements RCF's 18″ and 21″ active range, thanks to the many advantages it offers, as described in detail by Lucio Boiardi Serri and Michele Begotti: "The eighteen-inch cone is the standard in the market, offering the best compromise between excursion, SPL and size, as well as impulse response to the audio signal.
---
"Over the years, the demand for low-frequency SPL combined with the increasing power of amplifiers has pushed for greater excursion, requiring very solid, heavy diaphragms and suspensions, but also a reduction in radiating surface area and, consequently, in the amount of air displaced.
"R&D went back to the drawing board and proposed upscaling the cone to 19″, in order to preserve and even improve the suspension required for the desired excursion, while re-establishing the piston needed to move the air, without increasing the mass of the moving assembly or sacrificing responsiveness. The perfect balance between 18″ and 21″.
"For this new HyperVented transducer, the quadruple 4″ aluminum inside/outside coil on a fiberglass former is 44 mm long, which, together with the quantity and quality of the neodymium magnets, guarantees an XMax of 56 mm without any risk of breakage, since it is protected by Bass Motion Control technology. GTS 29 delivers a maximum of 148 dB and a low limit of 25 Hz at 10 dB. Each sub requires one channel of XPS 16K, so four units per amp."
Of course, the two 19″ speakers benefit from a rigid birch plywood cabinet with extra-large laminar vents, noise-reducing grille and internal layout, and ease of use with six recessed handles and dual 8-pin IP68 P-COM connectors on both front and rear panels for cardioid configurations. Last but not least, its weight of 96 kg means that it can be used to assemble 16-unit arrays on a single flying frame.
---
TTR 16K
Passive loudspeakers mean amplifier racks, and RCF has done it right with the TTR 16K. Housing three XPS 16Ks (or 16KDs for Dante), this touring rack features a 32 A/400 V power supply with splitter, an analog and AES/EBU patchbay, and space for a network switch to carry RDNet and Dante.
---
Listening Sessions
The listening sessions are an essential part of the presentation of a new sound system and the impression it makes on the press, dealers and potential buyers alike, and it's an understatement to say that some manufacturers don't always do a great job at this.
So, RCF went all out with three different sessions: a listening session at the factory, a more "intimate" live session at a dinner party, and finally pulling out the big guns with a concert in a stadium in front of 82 GTX 12s, even if the subs weren't the GTS 29s.
Listening at the factory in Reggio Emilia
The listening session at the factory, on a lawn that is constantly being trimmed by self-propelled mowers, was provided by a left/right set-up consisting of twelve GTX 12s flanking fifteen GTS 29s in five 3-unit cardioid stacks, and we were free to roam from the towers supporting the arrays all the way to behind the FoH position, a distance of over 80 meters.
As for the GTX 10s, they were positioned laterally, looking like baby chickens on a field too big for them, and had the honor of opening the proceedings.
GTX 10
From the very first notes, you're hooked. It sounds good, precise, without any distortion and, above all, with a high end of rare finesse and clarity. Without subwoofers, the six enclosures on each side do their utmost to generate and project low frequencies, and the funny thing is that, with a little bit of limiting, they manage to do just that! With nine elements, it would have been possible to obtain a minimum of coupling and an array length worthy of the name.
RCF's intention seems to be to have them play the role of "supplementary system" in this listening, but we're convinced that GTX 10 can do much more than that. Lateral decay is smooth, with a treble that doesn't seem to want to stop. The 4″ driver has plenty of potential, and it's put to good use.
The bass holds up well up to about 35 meters, beyond which it's the four GTS 29 subs that reinforce and "extend" the GTX 10s, but the impression of power, sharpness, dynamics and fidelity is there… all the more so because the top boxes are set to reach the end of the field, and the treble succeeds. 55 meters, outdoors. Hats off to them! There's nothing to criticize either about the fluidity of the connection between the 19″ and the 10″, the two complement each other perfectly.
GTX 12
GTX 12 is built like a big full-range system, and the impression without subs is again quite impressive. The 12 units per side generate a coupling and projection in the bass that would have warranted being set 3 dB lower, but the least we can say is that we're blown away by the wall of sound that emanates from the two arrays.
---
While GTX 10 is sharp and clean, GTX 12 is big and sometimes a little harsh. As we move away, we notice the impression that befits a "large format system", but it lacks a little brilliance and level in the treble, and a little less bass, which masks the low midrange and hinders the polar pattern somewhat.
The range reaches 85 meters (the end of the lawn) without any major color changes, which in open air is a very good result, and the polar pattern is even, except for a small irregularity at around 30°, which should be corrected, since the GTX 12 preset was still in the process of being refined in mid-July, when we had the chance to listen to it.
---
Adding in the subs once again confirms the very fine quality of the low and infra frequencies delivered by GTS 29, but also the imbalance in the demo, with a little too much low end in the heads and a few dB too much in the subs. Finally, the choice not to roll off the heads generates a sort of traffic jam between two different types of low frequencies, which are certainly in phase, but end up masking everything else! Ahh, marketing ;0)
---
We got behind the system while it was playing, and while the GTS 29 cardioid setup does a good job of cleaning up behind the wall of subs, some bass is present and is generated by the heads, which, like all non-cardioid systems, are virtually omnidirectional in the low frequencies. The fact remains that GTX 12 has great potential, which will need to be refined in terms of presets in Reggio Emilia, and a spaciousness which, once adapted to its needs, will prove highly effective – as we'll see the next day in Rome.
---
Listening to GTX 10 and GTS 29 at Venturini Baldini
In the evening after the presentation at the factory, we were invited to a musical dinner in the hills surrounding Reggio Emilia, at the Venturini Baldini winery. An open-air stage was set up where we were greeted by a professional band with a singer as talented as her accompanists, all reproduced by the same GTX 10 and GTS 29 we heard a few hours earlier.
---
It's even better, because it delivers a live, dynamic sound, admirably mixed by Lucio Boiardi Serri and with the "classic" sources of drums, bass, guitar and Rhodes. It's very open in terms of compression, allowing us to better understand the system's electroacoustic performance.
The dinner almost broke up because at every table we kept turning our heads, keeping quiet to listen and getting up between courses to go to the console to compliment Lucio and absorb what every concert should be.
The true sound of a big studio with the right spectral balance. Mention should also be made of the GTS 29, which delivers a full, clean attack and great infra-bass potential.
---
On the same day, we also had the chance to visit RCF's huge new logistics center, operational since early 2023, where 25 forklifts and up to 80 people were brought to a standstill to allow us to wander through the immense corridors. On either side, up to six levels of thousands of pallets of finished products and tens of thousands of parts used to manufacture them are stacked up, perfectly labelled and arranged vertically.
---
A few figures will make your head spin. 18,000 pallet spaces, 150 × 110 meters of floor space for 20,000 m² of storage area. We're talking about 1,000 new products leaving the factory every day, which explains the size of this warehouse.
We were also able to experience the famous Campovolo, now the RCF Arena, a part of the Reggio Emilia aerodrome where Ligabue and, for some years now, other international artists have been holding gigantic concerts. Since 2005, Ligabue has held the attendance record with 165,234 ticketed spectators. At the time, it was just a huge field of grass.
---
---
Listening at the Olympic Stadium in Rome
The next day, which happened to be Bastille Day, we set off for the Italian capital and its huge Olympic stadium to attend a Ligabue concert. After some hard bargaining, we were able to get down onto the pitch in the "golden section", so as to have more direct signal than reverberated signal.
It should be noted that Rome's Olympic Stadium has a honeycombed concrete roof, creating staggered, harsh and non-linear reflections. It's really like an AMS RMX 16, and a real nightmare for evaluating a system when there's a reverb that should be reserved only for snare drums from the 1980s!
---
Big, solid and very rich, the sound delivered by the GTX 12s was, in some respects, a reflection of what we'd heard the day before, but with even more impact and power, thanks to Ligabue's sound engineer's heavy use of dynamic processing of all kinds.
---
Despite this, the engineer had the good sense to make plenty of room for Luciano Ligabue's voice, which came through with perfect intelligibility – a real feat in a venue with acoustics so unsuitable for amplified sound.
Since the subs used here are 21″ models from the previous generation, we won't comment further on this listening experience, other than to certify the GTX 12's suitability for large spaces, with a real ability to propel sound over long distances.
---
---
Interview with Alberto Ruozzi
An early arrival in the Olympic Stadium in Rome left us a few hours to have some excellent pasta prepared on the spot in our lounge, as well as a few minutes to interview Alberto Ruozzi, RCF's Executive Sales Director.
SLU : Can you confirm the figure of 1,000 speakers leaving your factories every day?
Alberto Ruozzi : On the average, because it's a constantly changing number. We've reached 18,000 products per month. And that's just for loudspeakers, no more than 15% of which come from outside Italy.
SLU : That leaves us with 85%. So you have several production facilities in addition to Reggio Emilia…
Alberto Ruozzi : Ahh yes! Just for the molded cabinets of our loudspeakers, three factories work to order, with the flexibility that the market demands. Each site is capable of working on several models at the same time, which allows us to rapidly ramp up production. Made in Italy, at the level we practice it, demands quick adaptability.
---
SLU : But what's the secret to not offshoring too much?
Alberto Ruozzi : Essentially, the vertical integration of our technologies. We know everything about a loudspeaker from the transducer that we make to the power cable, which gives us the ability to control the chain of manufacturing costs right down to the last screw, and that's what makes RCF so unique on the market.
SLU : The growth of RCF and its group seems solid, as evidenced by your ultra-modern logistics center, but the factory nestled in the heart of the company headquarters seems a little undersized…
Alberto Ruozzi : It's true that we've put a lot of emphasis on logistics, which is the big investment for 2023. The old center was totally outdated and hampered our growth.
---
As far as our headquarters and its production lines are concerned, if you look closely, we have parts that are in 4.0, that is with biometric operator recognition, with ultra-modern robots… But it's also true that transducer production requires know-how that only highly skilled workers possess (female workers, especially – ed. note) and tools sometimes made to measure by our teams. It's less impressive, but the quality of our products is built on this experience.
SLU : Can you break down RCF's production into sectors by percentages?
Alberto Ruozzi : We have two main segments that do roughly the same volume: Retail, i.e. simple products, essentially portable plastic speaker systems, and Touring, which includes the HDL and TT+ series line arrays, for example. In third place we have Performance, products designed for installation.
In 4th and 5th place, at roughly the same percentage, we find Transducers sold as components, and Commercial Audio, so products for use in stores, railway stations, etc. The 6th and last category includes a fairly heterogeneous range of products, including consoles, studio monitors, sound cards and other equipment.
---
SLU : How did you work your way up to TT, and what was RCF's first line array?
Alberto Ruozzi : The first TT was born in 2006, the TTL33-A, which was the only one in this new family. It was also our first line array model in absolute terms, and for its time, it was a great success, opening the door to point-source models and subs. Later came the TTL55-A, representing our entry into the world of touring and large venues, as seen here.
This product was also a success, but not as much as we would have liked in Europe and especially in the United States, for which RCF wasn't yet mature enough. Producing the TT products gave our company the skills and knowledge of the market that led us to launch the HDL range, which proved to be a huge success.
The idea is to play the Made in Italy card, keeping the idea of the amplified loudspeaker but choosing polypropylene to give sound companies and integrators a simple, high-quality system that pays for itself much more quickly.
We've invented a new market by popularizing a type of loudspeaker that, until now, had always been out of the reach of most people because of its price. RCF has opened the door to sound services that use vans instead of trucks (he smiles), to companies where the purchaser is also the user.
SLU : If we add up all the RCF line array boxes sold so far, we're talking about 200,000 units…
Alberto Ruozzi : That's a plausible number. I wouldn't rule it out. It's no secret that RCF is the world's largest manufacturer of all line array models.
SLU : How did you get to TT+?
Alberto Ruozzi : The GTX, or the continuation of the TT, is a project that began to take shape in 2019. The continued success of the HDL models is evident, but so is the beginning of a decline in interest in the TT models, also due to competition from the latest, more powerful and modern HDL models. So we needed to offer a new solution that clearly outperforms HDLs in every respect.
The first decision was to go back to a passive enclosure, in order to be able to supply it with as much power as possible, and also to move closer to the demands of the market. As experts in active and passive loudspeakers, we know that built-in amplification needs to be highly calibrated to the transducer, sometimes holding back performance and weighing down the system.
So we concentrated on the amp for these new models and all those to come. We wanted this amp to be capable of delivering its power over bursts of 200 ms, to ensure its efficiency, regardless of the load and the model of speaker being driven. We did the same with the DSP resources, the network and the resilience in case of failure, which took us three years to achieve.
The loudspeakers followed, with the aim of offering more than just SPL, more than the usual war of numbers that can be made to mean many things (he smiles). We decided to offer products with a very extensive frequency response and a sound with as little distortion as possible, taking advantage of the remarkable quality of our amp. And for GTX 12, a full-range response and high level down low to be able to project it.
SLU : Touring also means adapting to customers' requirements. For example, are you thinking of offering your GTS 29 in a single 19″ version?
Alberto Ruozzi : Absolutely! The single 19″ is planned with and without rigging hardware. The USA needs this type of sub because it hangs easily with the main system, and many small theaters there have size and weight limitations. Last but not least, it will make a great complement to the GTX 10.
SLU : Are the GTXs in production and, if so, will the TT equivalents be discontinued?
Alberto Ruozzi : Mass production officially starts in September 2023, and orders can be placed immediately. The first deliveries will be made in September.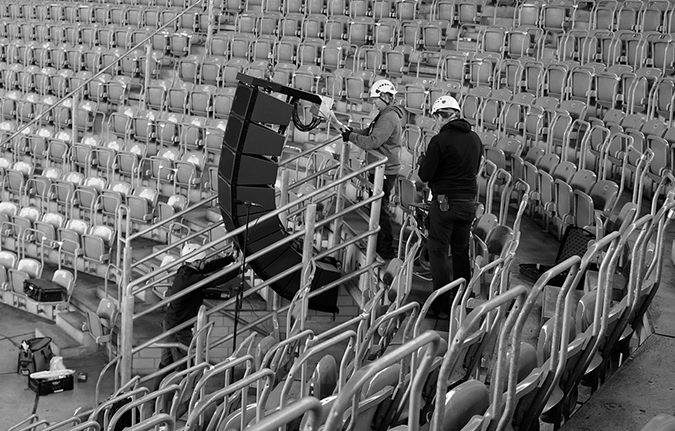 We have very ambitious production and sales forecasts, as demonstrated by an order for 250 units for a major project in 2024 and the fact that we have just equipped the Stuttgart football stadium in Germany entirely with bi-amplified GTX 10, which is quite a feat for a stadium.
It's a simplified version of the GTX 10, but with the same transducers and waveguides tailored to the venue. We're very proud of the fact that we won the tender and the listening tests against a local company that's very well known in the industry (smiling).
To answer the 2nd part of your question, in the long term we plan to take a number of older TTs out of the catalog, especially since some of them are almost old enough to move out and live on their own (he smiles). But we'll always be able to deliver supplements of these systems if a customer should require them, just as we have spare parts available to enable those who wish to continue using our older products to do so without risk.
SLU : One last question. This summer at the RCF Arena, Italia Loves Romagna, a big event was held in aid of the disaster victims in your region, Emilia Romagna, with a great line-up of artists. Was it done using GTX and who was the sound service?
Alberto Ruozzi : The sound company was Agorà, and yes, it was GTX and GTS 29, 410 elements in all, flown in four arrays for the main and sides, as well as ten delay towers, so that all the technical crews and sound engineers for all the artists who performed on the stage could have a good listen to it.
As a sponsor, RCF provided the PA, which meant that it didn't have to come the ticket revenue, and a lot of money was raised for the flood victims. Feedback was very encouraging, and Agorà used the system in a test phase for almost a year.
---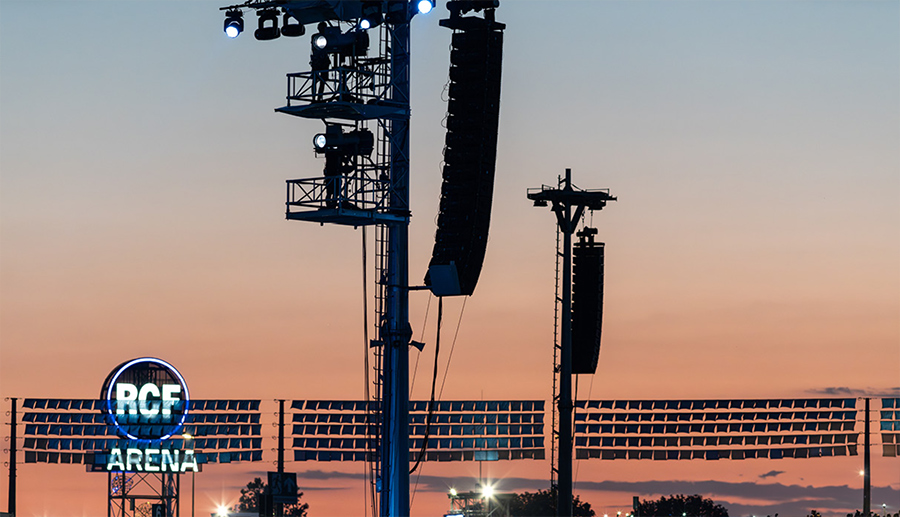 Conclusion
Reliable, simple and affordable, Reggio Emilia's line arrays are now in a class of their own, backed up by flawless power, a top-notch software suite and a powerful, precise electro-acoustic section that delivers excellent sound.
100% professional gear. Whether this will be enough in a highly competitive market where some players have taken the lead with highly innovative and/or cardioid products, the answer is in the hands of the decision-makers, and above all in their ears. Listen to the GTX 10 with the GTS 29 as soon as you have a chance, and you'll have the beginnings of an answer.
And for more information on TT+
Posted on 6 November 2023
Crédits -
Text: Ludovic Monchat - Photos: Ludovic monchat, RCF